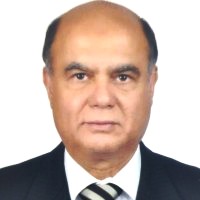 Mr. Muzaffar Khan. M.B.A ,
General Manager,
Hardware Division.
"Muzaffar Khan joined AlMoajil in the year 1978"
Muzaffar Khan is a seasoned hardware industry professional, with over forty years' experience in leading profitable business including an impressive portfolio of acquisitions to his credit. He is considered to be a pioneer in hardware business.
He has proven expertise in General Management including Performance Management and Program Management. Process Management, Team building and successful business development are among his key strengths.
Muzaffar Khan joined Al Moajil in the year 1978. Since then, he has served in different roles and responsibilities, extending a career span of more than forty years with Al Moajil. He has been credited for making Al Moajil a household name for door hardware requirements by establishing and diversifying the business. Under his leadership company's hardware business witnessed growth crossing annual sales of SAR 200 Million. He worked very closely with the company's management and signed exclusive agency contracts with international brands like Yale, Union, MAB, Valli & Valli. Also ,Al Moajil are dealers and distributors for other Assa Abloy door hardware brands.
He emphasized and ensured on the stock inventory levels, and established warehouses in the Kingdom of Saudi Arabia ,United Arab Emirates (UAE) and Kuwait. Al Moajil ,today, may be the only company in the Middle East carrying stock all the time with more than SAR 185 Million ( approx. USD 50 Million).
Today, Al Moajil caters all door hardware requirements through well-established branches and outlets in the Kingdom of Saudi Arabia, United Arab Emirates (UAE) and Kuwait. In other GCC countries through distributors and dealers.